Feedback is a key ingredient of successful businesses, high customer satisfaction, and the best customer service. It can be used in many ways – to measure success, as a development tool, and also as an indicator of where we are going and how we are doing.
But have you ever wondered how to gather and use feedback efficiently? The answer might be using customer support software (software customer service). In this article, we'll cover how to do this exactly and what's the best tool to choose. 
Now let's get into the details.
Why is feedback so important?
Feedback is something that you should always strive for. Customers' opinions are valuable because you can check if what do provide actually works for people. 
Feedback also helps you get customer data – when they suggest what you should improve and how they leave their data. Besides, it is excellent for other reasons. Let's have a look at some of them.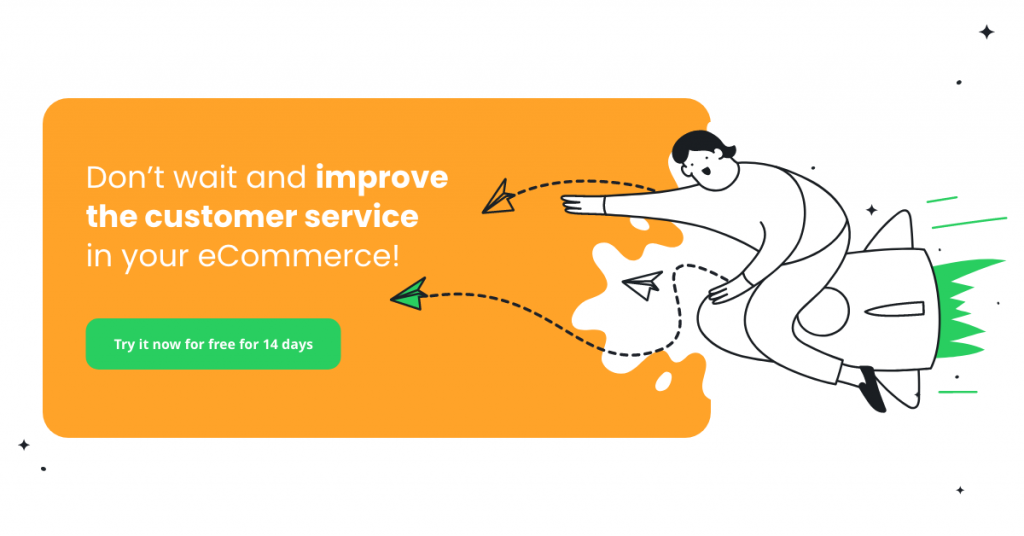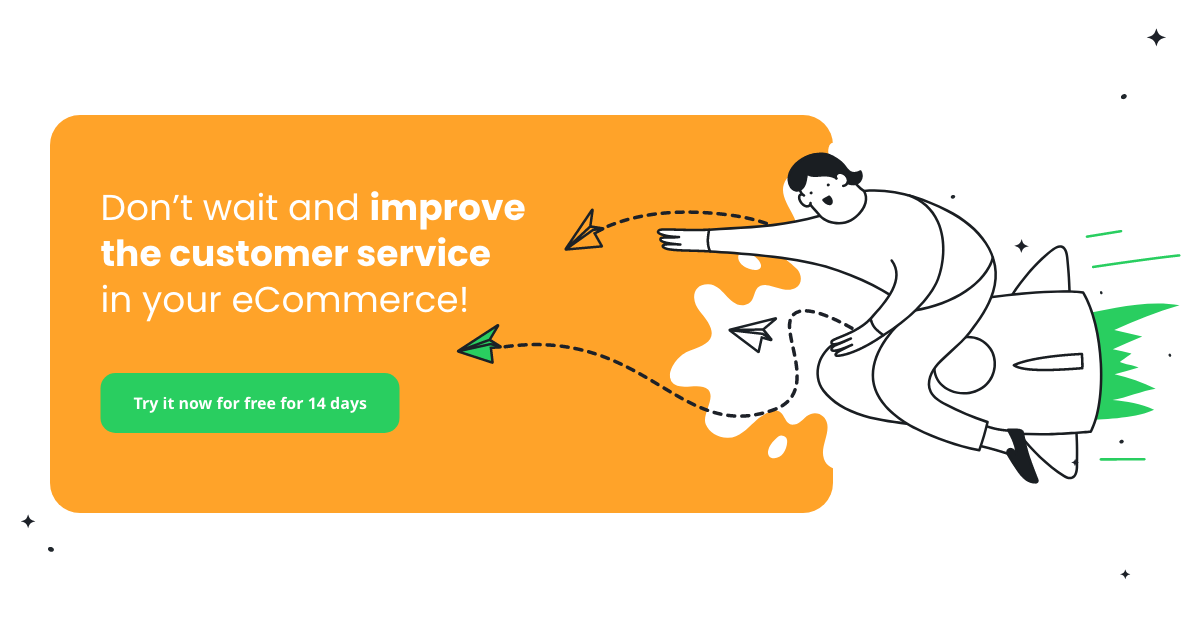 It helps the customer support team to avoid mistakes 
Customer service teams may take advantage of collecting customer feedback. Users' opinions hint at what the teams do right and what they should improve, for example, in terms of communication or customer support. 
Customer support teams and customer service representatives might catch any inconveniences when staying in touch with online shoppers. Moreover, asking for feedback using tools like surveys, a live chat, or social media is always a good move.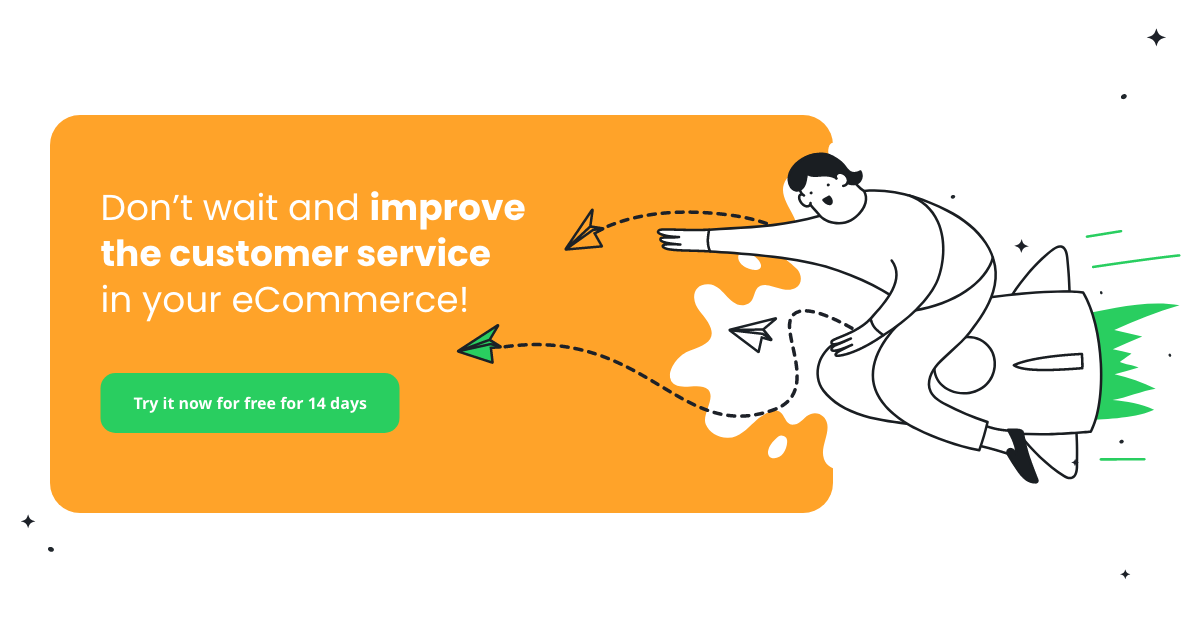 It helps to build a customer connection 
Feedback is basically customer interactions. You ask shoppers for feedback, they send it back, and then customer service agents reply with a thank you note. It may sound like a mundane exchange for information, but it doesn't have to look like that. Asking and thanking for feedback is a great opportunity for help desk software to:
express gratitude 

show your brand's personality 

develop customer relationships
It may go beyond just exchanging messages. Make the conversation with your audience an engaging and enjoyable experience.
It helps to improve customer experience 
Feedback is an essential part of the customer experience. It helps businesses understand what their users want and need and how they can improve their products and services. Feedback also allows companies and customer support teams to identify areas where customers are unhappy or even angry.
📰 Check here the tips on how to handle an angry customer using customer service management software.
In addition, feedback improves the customer experience by sharing their thoughts on the service or products. Customers appreciate being able to express their opinions and knowing that the company values their feedback. Also, remember that creating a positive relationship between businesses and customers may lead to referrals.
It helps to check the quality 
There is no doubt that quality control is crucial. You need to make sure that everything is done correctly and that the customer service quality and the quality of your products are consistent. And that's how you can use feedback for. This way, you can monitor if the customers are getting what they pay for.
You can do all of those by gathering feedback using customer service software. 
There are many customer service tools on the market. However, choosing the software that meets your needs and it's affordable for your budget might be a tough nut to crack. 
How use customer service software for gathering feedback?
Here are a few tips and ideas on using customer service software to collect users' feedback. Let's check if you know them all. With these features, you'll be able to gather valuable feedback and then use it to improve your products, services, or website. 
So, let's see how to use online customer support software for collecting customers' opionis.
By using autoresponder 
Autoresponder is a computer program that replies to a message instantly when it gets them. This program lets you inform your customers about getting the messages and if the order is accepted. 
Using an autoresponder is becoming a standard now. Think of your last order. It is very probable that you got the confirmation email.
Aside from that, an autoresponder is an excellent tool for gathering feedback. To each confirmation email, you can ask your customers whether they like your service or product. This way, you're sure that each customer who has done the shopping at your store was asked to leave feedback and monitor customer satisfaction. So make sure the customer service solutions you're considering provides such a feature.
By adding a quick poll while talking to customers 
You can ask your website users about leaving feedback using an autoresponder and then attach a quick poll. Polls or surveys are a great way of sharing opinions. You can gather all the feedback in one place and sometimes even get reports and statistics. 
This way, you will be able to monitor the feedback that you get and analyze it. Keeping an eye on the customers' opinions and your brand's reputation is essential. 
Also, remember that a feedback poll should be quick and easy (the same should apply to customer interactions via customer service tools). Otherwise, people might get discouraged and give up on leaving you feedback. Try to make it as quick as possible using simple language. After filling out a poll, remember to thank your customers for their time and opinions. 
By designing a template response with a feedback request 
An autoresponder works amazingly well with replying to emails. But you'll need something extra if you're in touch with the customers using other communication channels. That's why you need to look for a customer service solution that allows you to make asking for feedback a little bit faster. 
Some tools offer response templates that might be helpful when communicating using other methods. It is a ready message that you can use and rewrite as you need. And customer support teams can use the template for kind feedback requests. 
Additionally, you can customize the message using a shopper's name. Creating such templates allows you to make customer communication more personalized. 
💡 Did you know that a customer support solution like Responso may provide you with a heatmap that shows which days you get the most customer interaction? Also, you may see the workload of customer support agents in the team.
By collecting feedback from many sources thanks to many integrations
Tools like Responso enables businesses to connect with the tools they are using, so it is much easier to stay in touch with customers. Thanks to multichannel customer service and many integrations with marketplaces like Allegro, eBay, BaseLinker, Amazon, or Shopee, gathering and managing feedback is much easier and quicker.
Customer support tool checklist
If you and your customer support team are looking for a customer support tool, here is a list. It includes the essential features your software needs to have, except those needed for gathering customer feedback.
The customer support system should integrate seamlessly with your online store. 

Its interface needs to be intuitive for your customer service team agents. 

Make sure it provides statistics and reports to monitor customer interactions.

Check if the platform collects customer data.

Pick a helpdesk software that delivers a ticketing system.
Of course, those are only suggestions, yet they are handy. Take a moment and think about your must-haves and capacities essential to your company. Bear in mind that a robust tool should improve both agent and customer satisfaction.
What's the best customer service software?
There's no one-size-fits-all answer to this question. There are many businesses on the market with various target audiences, and each of them has different needs and preferences. Luckily, many customer service pieces of software are available, so everyone can find something suitable.
Today, we would like to show you a tool that might draw your attention.  
Use Responso for gathering feedback 
Responso is a helpdesk customer service that makes dealing with customers much easier. You can keep in touch with users via various messaging channels and keep the workflow running smoothly. 
Thanks to many features like an autoresponder or a ticketing system, and help desk software facilities, you can respond to urgent customer requests automatically and efficiently.   
But it's a great customer service tool for gathering feedback! In the admin panel, you'll find get access to all the opinions that the client has given to you. Let's see how it works.
You can filter the feedback using Responso
This customer service software enables you to create filters in a very straightforward way. In the admin panel, there is the Filters tab. Click on it, and you'll see the "Add filter" button. Then select the parameters that you're interested in. For one filter, there can be more than one setting. Type the title of the filter and save it by clicking "Create." Et voilà! Your custom filters are ready. 
You can thank your customers for their opinions with automatic messages
When someone sends you an opinion, it is crucial to send a follow-up message with a few words. This way, your customers will know you're grateful for feedback. Let them know that even a negative opinion is valuable business information. The good news is that with a help desk solution like Responso, you don't have to do it manually. It is possible to automate your replies.
You can use tags to organize your messages 
Similarly to filters, tags help categorize messages. Using these features allows for finding messages with feedback in seconds. We recommend tagging messages with the name of the marketplace and the type of message. For example, feedback, IT department, or a question about the status order. 
👉🏻 Also, feedback may be helpful for your customer service team members. Make sure that you're employees have a space for feedback on their workplace. By keeping up with how they're doing, asking about perks that would motivate them further (e.g., retirement plan options), and helping and engaging them when it's needed, their efficiency may increase.
Responso pricing
This customer support solution offers three pricing plans, so everyone can choose what they need.
Standard at $8/month/agent

Business at $13/month/agent

Enterprise at $19/month per agent
Each of the plans offers unlimited integrations with eBay, Amazon, or Shopee (just to name a few, there are more of them), an unlimited number of users, mailboxes, and messages. 
Take a look at the pricing details. There's a free trial if you want to check Responso in practice.
Also, Responso as a customer service platform offers many other valuable features for dealing with customer issues.
Text proofreading

helps you to ensure there are no errors.

Statistics and reports

are useful for keeping an eye on the efficiency and monitoring which product generates the most inquiries. 

There are

many return and complaint features

, making the process smooth for customers who return products and a customer service rep. 

Templates replies

assist you to answer customer requests fast.

An intuitive user interface

, so don't waste your time looking for a feature you want to use.

Customer history

is available, so you can gather customer data thanks to Responso's help desk solution.

A ticketing system

is great for dealing with customer issues in a timely manner.

An extensive knowledge

base will help your customer support team to find information with a breeze.
Check 7 key benefits of enterprise helpdesk solution for your business if you're interested in such a customer service platform solution.
How to use feedback to improve your and your customer service team performance?
Verify why you want to gather feedback. Before you start gathering feedback, one of the most important questions you need to ask is – why do I want to collect it? Do you want to serve your customers better? Do you want to improve your product? Or maybe you want to deal with customer queries more efficiently?
Your business improvement strategy will be more effective if you have a clear understanding of your goals.
Keep the feedback categorized. If you already have feedback from your customers, the best way is to categorize it. Keep feedback about customer support, product, UI and UX design differences, etc., separately. It will be easier and faster to go through them and implement changes in some areas. 
For example, if users report problems with payments, make sure that your customer service agents are able to tag the message as feedback on the online transaction. Then, it is easier to get an overview of the major customer issues.
Take note of the improvements suggested. Users' suggestions are valuable – overall, they are the ones who use your products and services. See the changes they are providing, and test if they gonna work for others as well. You can measure it using customer service software solutions. Additionally, consider what businesses value the changes may bring before you make any decisions. 
Use customer support tools for collecting feedback. Some customer service software tools provide great features for gathering feedback (but it's also a solid tool that helps to increase customer engagement). If you want to get an idea of what to improve first, it's useful to analyze what you've been using. Also, a good choice would be customer support software. See what features it should have so that you can take advantage of the customer feedback.
💡 Did you know that in December 2020, 94% of American online customers claimed that positive reviews made them more likely to use a business? Those numbers show that feedback is a really powerful tool. 
Conclusion: Customer support software for the feedback
Customers' opinions on the products and services are key to your business growth, improving customer satisfaction rates, and maintaining customer relationships. So it's worth paying attention to them and keeping them all in place. However, there's no point in collecting feedback manually. If you have an online store, customer support software like Responso can do it for you!
Sign up for a free trial, and keep the feedback organized on hand, and improve the workflow of your customer support teams and service agents.