Automation is a game changer when it comes to customer service. It helps to provide users with a smooth customer journey and seamless experience. Also,  automating tasks with a unified platform streamlines processes and saves time for both your team and customers. 
Want to know how to make tasks more efficient with customer service software tools? Don't worry. You won't be left in the dark. Today, we've got your back with some tips. 
But before we get started…
What is customer service automation?
Customer service automation is the use of software and powerful tools to automate customer service tasks. Automation can include anything from setting up automated response systems (like autoresponders or chat software) to streamlining task management processes or work scheduling. The latter can even be performed with dedicated free tools for managing projects. Many customer service tools are on the market today, but we have an excellent recommendation for you.
Automation has a wide range of benefits for your customer service team and your customers. 
There're many of them, so let's come to the point.
Benefits of automating tasks with a customer service solution
Automating tasks saves you time and money
Manually performing your tasks might not be the best idea. It is rather expensive and unreliable – usually, fewer resources are needed when automation is incorporated, and it also increases the efficiency of operations. 
Having a customer service platform with an automation feature gives you more time to focus on what you do best: giving your customers the world-class experience they deserve. 
Not only will it save you money in the long run, but it also speed up ticket routing and responses while reducing service costs. As a bonus, automating customer-centered activities can provide a personalized touch that no amount of manual labor could ever achieve! 
Result? Happy customers and a satisfied customer support team.
Customer satisfaction levels are improved 
Implementing a customer service software solution can be an effective way to simplify operations and ensure that your customers get the assistance they need quickly and reliably. 
As a result of automated customer service, you'll be able to provide personalized customer service while reducing wait times.
Automation also eliminates mistakes or inaccuracies due to manual processes, allowing for better resolution times, a higher satisfaction rating, and enhanced customer relationships. And who doesn't like pleased customers?
Businesses can customize automated solutions to meet their needs
Investing in automated customer support software might be one of your business's most profitable decisions. Why? Because it helps with:
increasing operational efficiency 

freeing up staff time for more high-value tasks

reducing overall costs 

improving knowledge management

increasing customer loyalty

streamlining employee workflows
Perhaps best of all, it's customizable for your unique needs. 
An automated customer service solution allows you to tailor it to your exact service expectations. Key features (such as canned responses, autoresponder, or chat transcripts) allow better customer communication and understanding. Not only will you be helping your bottom line, but you'll be improving the customer experience as well!
Effective management of customer interactions 
You can prioritize tasks and act on customer feedback when you automate tasks such as data entry, sorting, and tracking customer opinions.
📰 Read how to use software customer service for gathering feedback.
What's more, with automated customer interactions, customer service reps can focus on the tasks that require their attention and expertise. For example, using a chatbot to answer common questions gives space for more complicated tasks. 
By creating seamless conversational experiences with your customers, you'll stay connected to them and offer higher levels of personalized service.
You're up to date with trends in the customer service industry
Automation within customer service is an incredibly popular tool because it offers reliable support when dealing with customer issues. More and more companies use customer service automation, so make sure you don't fall behind. 
It is not surprising that automation has become a trend. This solution saves agents' time, allowing customer service representatives to provide more personal, customized care and support. 
Automated customer communications (such as FAQs or simple responses to customer requests) enable customers to get immediate answers without waiting for a human agent to respond. It is a great solution, and that's why many business owners decide to implement automation as a part of their customer service strategy.
Automated solutions are scalable so that they can grow with your business
With an automatic, all-in-one solution for customer service, businesses never need to worry about capacity again. The scalability of automated solutions ensures that even as your business grows, your customer service will be able to keep up with you. 
Say goodbye to understaffing and overworked staff members, and rest easy knowing that your customers are being taken care of at any hour – because customer support software never gets tired. 
Automated customer service allows customers to be happy with the quality of support they receive. So, reap the benefits of automating tasks with Responso – an excellent customer support solution.
Consistency and accuracy in customer service
Automating customer service tasks may sound robotic, but it can be the key to delivering consistent, accurate service to your customers.

👉🏻 With automation, you don't have to worry about employees hitting impossibly high standards due to their lack of available time. 
👉🏻 It ensures that everyone receives the same level of efficiently provided help with no special treatment given or taken away due to a lack of training or exhaustion. 
👉🏻 Automation eliminates human error, so customers can feel confident they are getting the best information with minimal possibility of miscommunication or wrong answers. 
Make sure you choose the right customer support software, like Responso, to provide the best and the most effective support. Check out Responso customer service offerings and their price.
Tracking customer interactions and preferences is a breeze with an automation tool 
There're many ways of collecting feedback – customer satisfaction surveys, social media, emails, and more. It might be a bit overwhelming if you get opinions from so many sources. However, with robust customer service management software, all of that is a breeze! Again, Responso does the job here.
By automating tasks like collecting feedback, and tracking customer interactions and preferences, businesses might provide the best possible services for their customers. In addition, automation helps you quickly pinpoint areas of improvement or complex issues that need to be resolved. As a result, employees might put their efforts toward solving potential roadblocks. 
A customer service solution powered by automation will benefit everyone involved – from the customers who get a better experience to your employees who don't have to worry about tedious tasks for improved efficiency. And it also gives them a deeper understanding of customers' needs.
Following up with customers who've interacted with you has never been easier
Automating follow-ups with customers ensures that your messages reach them promptly and consistently – both essential for developing strong relationships. Automated communication allows you to spend more time doing what matters most – engaging in meaningful customer conversations, no matter how big your customer base is. 
Moreover, with automated messages, businesses don't have to worry about prolonged emails or redundant conversations. They can instead create detailed templates that focus on providing direct information while maintaining polite and friendly interactions. 
Good practices for automating tasks with a customer service solution
Tasks automation has multiple benefits! To make it even more profitable, follow the tips below.
Make sure to test automation scripts before implementing them 
Automating tasks in customer service software tools can be a great way to make your team's jobs more efficient and save time, but remember that they are still machines that need to be tested. Taking the time to test automation scripts before launching will help ensure everything is running as smoothly as possible. In this way, you may avoid unnecessary delays or disruptions. 
It's also beneficial to regularly review your scripts to keep up with changes in technology and customer service processes to ensure you're always providing the highest quality of service for your customers.
Periodically review your automation scripts to make sure they are still effective
Regular reviews are essential for automation to remain effective. Just like everything else in life, things change quickly – what was performing well a year ago can be completely outdated by now! 
It's also important to remember that automated scripts require upkeep – technology moves at warp speed but so do customer expectations. A quick, regular review ensures your organization remains one step ahead. 
So don't forget: periodic reviewing of automation scripts is key for staying agile and meeting the needs of today's customers.
Always have a backup plan in case something goes wrong with an automated task
Prepare a backup plan in advance if something goes wrong during automated processing. Not only will having a backup plan give you peace of mind and confidence in your automated workflow, but it also lets you quickly pivot if things don't work out.
How Responso can help you with customer service automation
Responso is a help desk solution for companies of all sizes. Thanks to its excellent capabilities, you can answer customer support requests in seconds! Let's see the core features of this customer service software.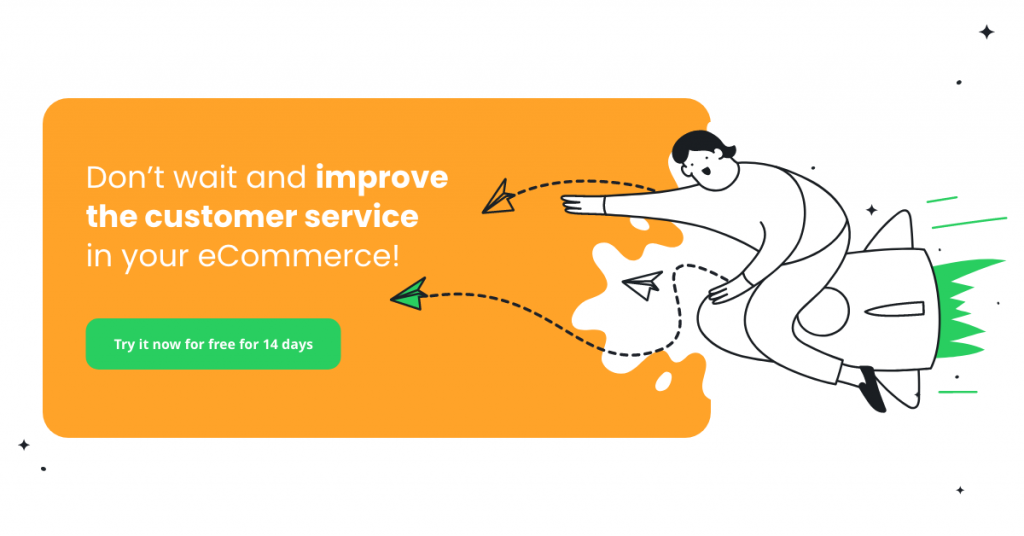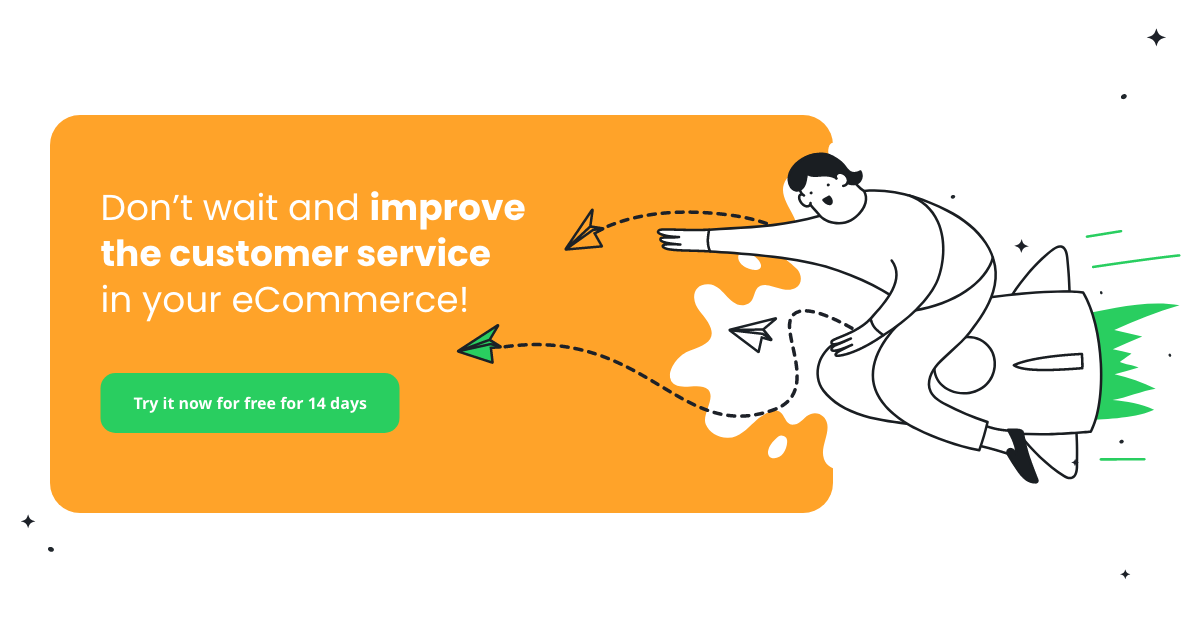 01 Ticketing system
Setting up a ticketing system makes sense when your shop starts to take off. Little do we think in the beginning that the sheer increase in customer questions and inquiries may overwhelm us later, but it's likely to happen at some point. And luckily, setting up the Responso ticketing system only takes minutes!
Thanks to an efficient ticket management system, customer service agents quickly and easily access all tickets and the necessary details with just a click of a button – which makes for increased team collaboration and improved customer service management, and amazing experiences for potential and current customers. Moreover, the ticketing system is a great source of customer insights – what they like and what they don't
Communication is also made smoother and more organized, minimizing waiting time and maximizing satisfaction. Luckily, a ticket routing system is readily available at Responso!
02 Autoresponder
Autoresponders allow businesses to scale their customer service capabilities through automated messages sent out when certain conditions are met. Take eBay, Allegro, and Amazon sellers – they can use autoresponders to efficiently respond to messages from the customer service channels like Allegro Discussions and News Center. 
As a result, sellers deliver personalized experiences without having to spend countless hours writing individual responses. 
Who knows, perhaps you will achieve even higher customer satisfaction rates with the right response! The power is in your hands.
Also, Responso provides statistics and reports, making monitoring key customer service metrics easier.
03 Automatic actions
It's easy to simplify all sorts of tasks with Responso's automatic actions. Configuring them is, thankfully, totally user-friendly – no fancy programming knowledge needed! 
Moreover, it doesn't matter if you get the settings wrong in the first go – feel free to change them as many times as you wish to tweak them to perfection without affecting any other settings. What this means is that you can create truly intricate workflows tailored to your requirements – want varying responses based on Allegro account type, integration setup, or day of the week? Sure thing! So go on and give automated actions a try.
04 Integrations
With Responso integrations, connecting with the essential tools and marketplaces you've been using has never been easier! From Allegro to Shopee, Amazon to Ebay – no matter where you're based or how many places you sell in, Responso has got your back. 
So don't fuss around with manual tasks when they can be automated – save your precious time and money by relying on Responso integrations. There is no rocket science to this, and anyone could do it (okay, maybe not anyone, but you get the picture). 
💡 Stay in touch with your customers across popular social media channels like Instagram and Facebook. React to customer queries on digital channels immediately and gain more loyal customers.
So give yourself a break and ensure everything is taken care of – integrate today with Responso!
05 Template responses
From pricing information to the thank you note for the purchase – having template responses close at hand is a must! Your team gathers the answers usually asked by customers and stores them in a library so you can pick precisely the right response with just a few clicks. They work similarly to canned responses.
Not only is it incredibly convenient – but it also prevents typos and spelling mistakes, ensuring professional conversations every time. No matter if you communicate with customers via social media platforms, YouTube, email, or other channels – or if you have a boutique marketing agency to take care of it all. Eliminating human errors means that you can focus on providing the best customer service experiences possible without worrying if everything's up to date. 
There's no such thing as poor customer service delivery or dissatisfied customers with Responso!
06 Tags & Filters
Predefined filters are a great way to organize your messages in the Responso system quickly and easily. No more digging for specific messages – adding filters is as simple as selecting a few options. And the best part? You don't have to do it alone! Assembling additional team members to help create filters provides additional support and allows you to discover even more helpful information. 
To top it off, Responso gives customer support agents the opportunity to categorize messages with tags and mark them by department or type – providing unprecedented access to a wealth of data!
07 Forwarding messages
Forwarding messages with Responso is an excellent way to ensure your customers get the perfect answer as quickly as possible! By creating a ticket and selecting "Forward," you're able to send any message to the right person in just a few clicks. 
Not only does this help improve response time, but it also strengthens relationships with users by making sure customer service requests are addressed quickly. Plus, it's so easy to do – what could be better?
And some good news here – with Responso, it only takes three steps to automate your customer support! 
Over to you
Well, there you have it – a complete guide to automating tasks with Responso excellent customer service solutions! There're many features available so that you can make the most out of your customer care setup. Great customer and employee experience, automatic ticket creation, autoresponder, and social media customer service – all close at hand. And the price is affordable, so both larger teams and small companies can provide amazing customer experience with Responso. 
Ready to give it a go? Join Responso for free and deal with customer inquiries like a pro. Good luck!