To conduct the best customer service, you need to know your clients inside and out and have years of experience in the industry. Then you will know what they need and how to meet their expectations. But not all companies have that much experience behind them and still do a great job of satisfying their clientele. What's their secret? Well, they probably use great tools that make their work much more efficient!
Do you, too, want to be good at customer service but don't know what tools to use? Don't worry because today we will introduce you to as many as 8 best customer service ecommerce tools you need to know. Let's get started!
Why are ecommerce tools so important for your customer service?
Customer service is an integral part of any business. It has a direct impact on a company's reputation and sales and contributes significantly to customer loyalty to the brand. Excellent service copes with the increasing number of inquiries, orders, objections, and expectations of users. It is timely and provides accurate advice. As a result – it increases the customer satisfaction level of customers, who, as a result, make fewer complaints and contribute to increased sales. 
This sounds beautiful, but how to achieve it? Precisely, by using the right customer service e-commerce tools.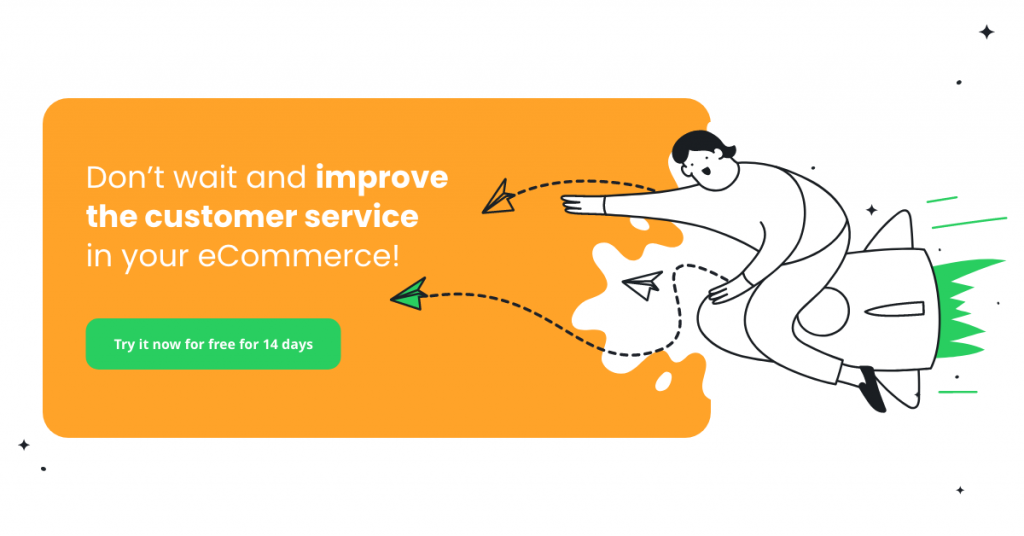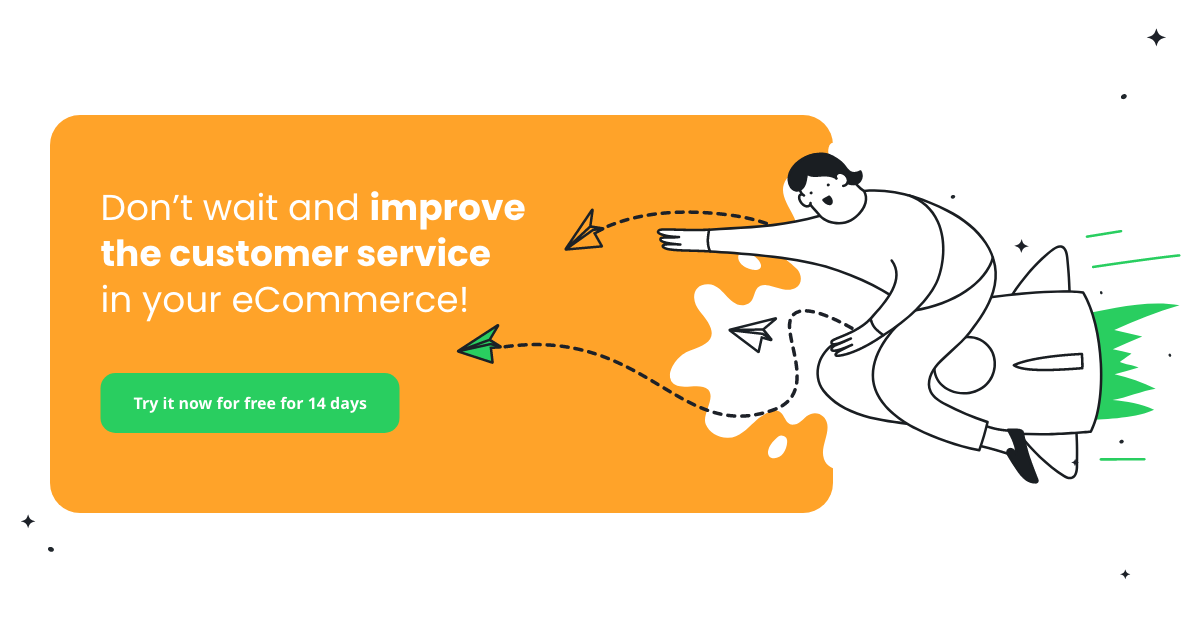 Such tools are of great value to your business and customer care, as online sales have seen a surge in interest in recent years, and people are aware of their expectations. So it's especially worth taking care of this aspect, as clients often look not only for good deals but also want to be treated well. If your brand does not meet this requirement, keeping your audience with you will be hard.
Therefore, before you choose an e-commerce platform, you should think about customer service capabilities. With them, you will be able to enhance and automate your customer support at every stage of the buying process. 
Each customer service e-commerce tool has a set of features, the basic ones and the more advanced that make customer relationship management much faster and simpler. You just need to understand what your goals are and then look for the right software.
How to choose the best customer service ecommerce tool?
Among the hundreds or even thousands of customer service e-commerce tools available, we certainly can rank them into better and worse ones. But just because one tool will be inappropriate for someone doesn't mean it will also be a wrong choice for your business. So think carefully about the various aspects:
Set of features

– o start, identify what features you need to improve customer service. In general, tools have similar options, but differ in many aspects that may be crucial to your needs, depending on what you need most. Do you want to focus on live chat conversations, automated chat responses, or assist customers by using email support? Or maybe you are interested in all of these features? Think carefully.

Ease of use

– Consider whether this solution is easy to launch, intuitive or simple to integrate into your store. After all, you want this tool to be helpful, not problematic. Also, think if you need a cloud-based system or if it would be better for your business for this to be a downloadable app.

Is the tool suitable for your business type

– pay attention to whether the customer service tool is designed explicitly for your type of business. That is, it won't be a very wise choice if you buy your small business a system that is designed for large corporations. Not only will you not benefit from all the built-in options, but you'll likely overpay for them.
The next step is to choose a platform based on the factors you identified. 
And today, we're going to introduce you to the 8 excellent customer service e-commerce tools that streamline your workflow by automating many of the activities you've been doing manually so far. 
8 Best Tools for your Customer Service Ecommerce
#1 Responso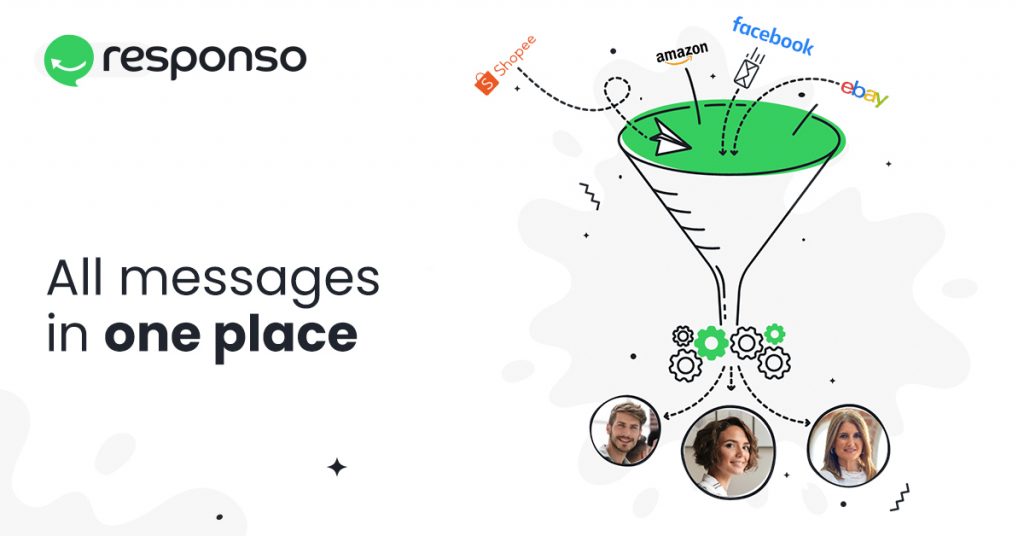 Our first choice is Responso – a help center for e-commerce with one panel for managing customer requests from multiple channels. Using Responso, you won't have to answer your customers' urgent inquiries in the middle of the night, as this system will handle their needs for you like an actual employee. With this tool, you can manage messages from multiple sources with related order details without logging into each one separately. 
It has many outstanding features, like autoresponder, which automatically sends messages to the users you choose, on what days and times, so that it meets your goals perfectly. You also have full flexibility on when to send the automated response.
Top Features:
unlimited number of messages,

unlimited email accounts,

unlimited integrations,

advanced built-in reports,

autoresponder,

customer details,

custom domains,

collecting feedback from multiple sources,

message statuses.
Pricing:
You can try Responso for free for 14-days, and a credit card isn't required. Next, you can pay monthly, in which case the price is USD 9.00 per month, or annually, in which case the fee of USD 7.00 per month applies.
Pros:
has a lot of features,

provides many automatic options,

the platform can be customized,

is very intuitive,

has many integrations,

has a free 14-day trial.
Cons:
#2 Mailchimp
Another customer service software is Mailchimp – this one will improve your email communication significantly. This platform will analyze data from your emails and will give you important information for improving your performance. E-commerce customer service teams and customer support departments will find this app useful.
Top Features:
chat window, email, and phone support,

email templates,

A/B testing,

predictive segmentation,

email scheduling.
Using it along with tools like Instantly can drastically improve your email marketing campaigns!
Pricing:
Mailchimp offers three paid plans and one free. The Essential plan is priced at USD 11.00, the Standard plan is USD 17.00, and the Premium is USD 299.00. That's quite a big gap between the best-equipped plan and the others.
Pros:
handle end-to-end email communication,

analyze email marketing performance,

offer a personalized customer service experience,

has a free account.
Cons:
the Free Plan is very limited,

unlimited contacts only in the Premium plan,

the Premium plan is too expensive.
#3 Baselinker
Baselinker is an all-in-one e-commerce management system. It improves your workflow, gathers communication in one place, gives you full control over different sales channels, and saves your precious time. 
Baseliner perfectly integrates with Responso. Having these two solutions under one roof means you can keep track of the whole correspondence with your shoppers. What's more, in Responso, you will find all Baselinker orders' details, so helping your clients will be much faster.
Top Features:
manage orders from marketplaces and stores,

customer shipment tracking,

employee efficiency control.
Pricing:
Baselinker offers you four paid pricing plans paid monthly. Payments are made in arrears according to the number of active offers, products in the warehouse, and orders processed. Based on your expectations, you can choose the plan you need. Prices start from USD 9.00, but you can also choose a subscription for USD 29.00, USD 59.00, and USD 99.00. 
Pros:
integrates with Responso,

easy to use,

has a free trial.
Cons:
no free plan,

too extended for small companies.
#4 Hiver
Hiver is a multichannel customer service software built for Google Workspace. Hiver helps teams deliver fast and empathetic customer service, right from the tool they're the most familiar with – Gmail. That said, with Hiver, support managers can assign, collaborate, and track customer queries till the point of resolution. 
To streamline agent workload, Hiver offers the ability to automate repetitive tasks and leverage advanced analytics. For example, emails marked 'urgent' can be automatically routed to a particular agent, ensuring your support team can focus on addressing customer needs effectively.
Hiver is a truly multichannel solution, enabling teams to deliver fast and empathetic customer service across a range of channels, including live chat, email, knowledge base, and phone calls – all effortlessly integrated into Gmail. In addition, Hiver can be integrated with other popular tools such as Asana, Jira, Slack, WhatsApp, Zapier, Salesforce, and AirCall. This seamless integration ensures that all the necessary tools are readily available to deliver an exceptional customer experience, all in one place.
#5 Smartsupp
Smartsupp is a good live chat support software for improving customer satisfaction. This software can be your virtual assistant. It provides you with real-time chat support and, what's most important – video recordings.
Only Smartsupp can provide a chat conversation where an agent can record the movements of the visitor on the website. Therefore, by analyzing customer experience and discovering where they lose their way, you can gain a better understanding of them.
Top Features:
chatbot and live chat feature,

email and Facebook Messenger communication,

video recordings,

detailed statistics,

automatic messages.
Pricing:
Smartsupp gives you four pricing plans, including a free one. Prices start from PLN 112.50 to PLN 300.00 per month, but you can also pay annually. Moreover, you can choose the Ultimate plan and contact sales to know its pricing. 
Pros:
provides a mobile app,

many integrations,

free account.
Cons:
the Free account is very limited.
#6 Survicate
Survicate is a survey tool, and it will give you many insights about your customers and website users. By using this system, you will be able to improve relationships with your audience and give them what they desire. 
For example, you can share link surveys on blogs, social media, and emails, receive automated reports and track the customer experience over time with such a backup.
Top Features:
multilingual surveys,

auto-identify responders,

automated recurring surveys,

customer data filters.
Pricing:
Survicate offers quite a lot of pricing plans: a Free one, three Flexible plans (from USD 89.00 to USD 269.00), and the Custom one – which starts at USD 299.00.
Pros:
unlimited integrations,

custom survey design,

unlimited free users.
Cons:
in the Free plan, you can collect responses only for 7 days,

the Scale plan is quite expensive.
#7 Luigi's Box
Luigi's Box is an e-commerce tool for your e-shop that can empower your analytics, search and recommendations. With many of Luigi's Box Analytics features, support teams can understand what customers search for, what they struggle to find, and how you can enhance their overall search experience. In addition, your support team can discover how your customers discover your key content. To make your content more searchable, you can find common typos and niche queries.
Top Features:
advanced analytics,

customers trends,

reports,

detailed content analysis.
Pricing:
Luigi's Box Analytics, Search, and Recommender have different ecommerce pricing. Luigi's Box Analytics pricing starts from EUR 0.00 per month, Luigi's Box Search from EUR 199.00 per month, and Luigi's Box Search & Recommender from EUR 299.00. To know more about pricing, you should contact the sales team.
Pros:
intuitive dashboard,

14-day free trial,

many integrations.
Cons:
unclear pricing,

quite an expensive solution.
#8 Kontentino
You can use Kontentino if you don't have enough data from social media about your customers' behavior. Kontentino is the most intuitive social media management tool. With this system, you would finally be able to see valuable insights from posts, campaigns, or page performance. That means you will understand what your audience wants, what they are interested in, if they are frustrated, or if they love your products. You will provide better relations and show clients you care about their opinion.
Top Features:
advanced reports,

post performance analytics,

social media scheduler (including scheduling on Instagram),

automated post publishing.
Pricing:
Four pricing plans wait for you in Kontentino: Starter, Standard, Pro, and Enterprise. Pisces vary from USD 53.00 to USD 216.00 when paid annually. If you want to know the Enterprise plan, you need to contact sales for a custom offer.
Pros:
many advanced features,

24/7 support,

easy to use.
Cons:
no free plan,

customer service features are limited.
#9 Trello
With this system, your workflow will be improved, and you will be able to manage your clients better since your job will be organized and well-planned. Customized Trello boards, lists, and cards will make your chat support team grow. So, with Trello's intuitive features, support teams can quickly set up and customize workflows for meetings, projects, events, or even goals.
Top Features:
built-in automation,

unlimited cards,

Trello templates,

unlimited power-ups.
Pricing:
You can use Trello for free, pay USD 5.00 for the Standard plan, USD 10.00 for the Premium plan, or USD 17.50 for the Enterprise plan. You can also try paid plans for free. For more information about the Enterprise plan, you should contact their sales. 
Pros:
provides a mobile app,

customization,

quite a cheap tool.
Cons:
the Free plan is very limited,

paid plans offer greater security.
Time to choose your customer service ecommerce tool!
Servicing your customers can be an easy process if you use the right tools. With the right equipment, not only will you get your work done faster, but you will also provide a lot of benefits to your customers, as they will be happier than usual. 
So don't waste your time and make the right choices. Create an account with Responso and improve customer experience like never before!