Each company is unique, and each needs a different set of features. Some businesses are able to find a satisfactory, ready-made solution among numerous help desk tools and their plans. It meets their needs perfectly. But sometimes, it is not enough.
In this case, are there other options than just pre-made packages? Don't worry!
If you're a company that needs a tailored-made help desk solution for your business, we have an exciting offer for you.  
Helpdesk for enterprise customers
Large companies and growing ones deal with different challenges in many areas. One of them might be customer service. As a result, some enterprise businesses and their customer service departments need more than just basic, limited plans that some tools provide. In this case, you need a solution that goes beyond the standard.
But how to find such a solution?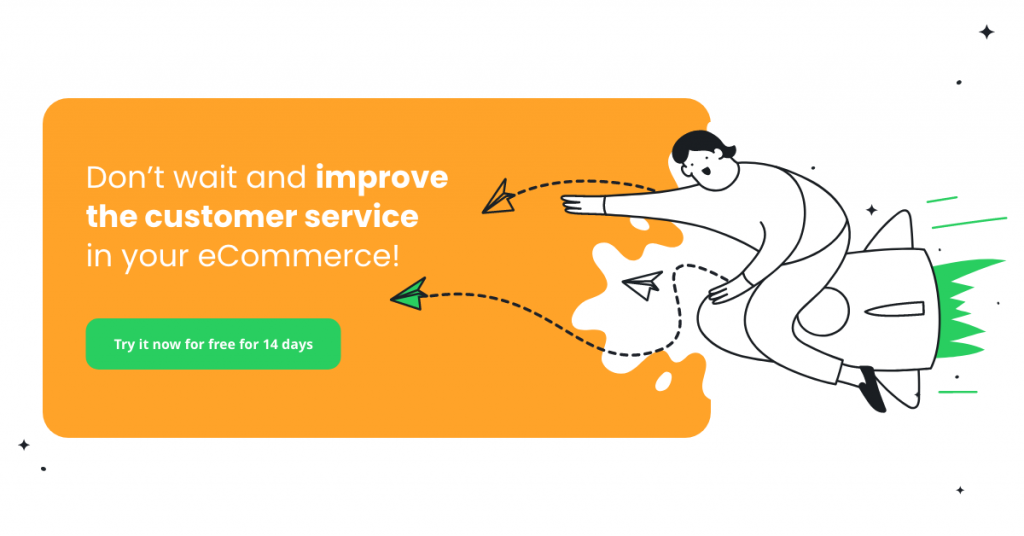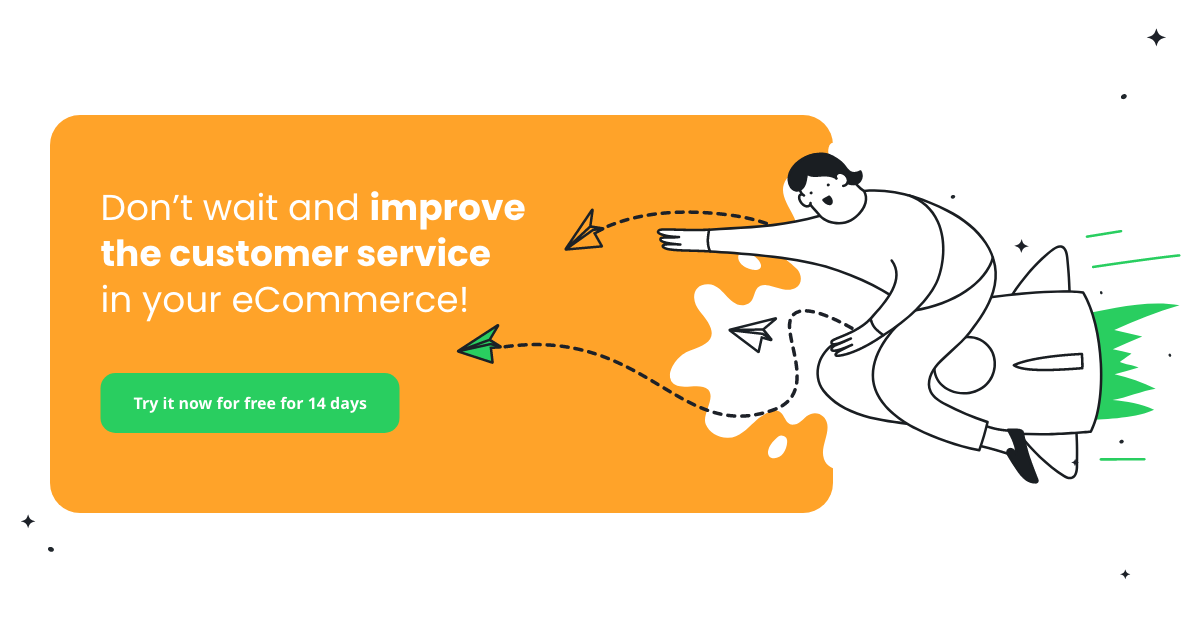 Many of the customer service platforms offer standard help desk solutions and also enterprise ones. It is because they want to support your productivity and allow you to deal with customers' issues in the best way possible. But the list of advantages does not end here. 
And that's our main focus for today – how enterprise help desk software can improve your business.
Click here if you're not sure what a help desk is.
7 key benefits of enterprise help desk software
#1 Individual approach 
Choosing an enterprise solution is a good move when you want to be taken individually. It means that there is room for discussing limitations so that you can adjust the limits for your needs, for example, enhanced security features like those you would get with dedicated SOAR technology (e.g., from Cyware). In addition, the individual approach may help you to use all the tool's potential.
Thanks to a holistic approach to your needs and expectations, you can openly discuss your concerns and what strikes you the most about the extended pricing plan. 
Everybody wants to be treated uniquely because that provides satisfactory service both for you and your customers. That's why business owners want to be treated as unique individuals. 
Therefore, when choosing an enterprise plan, you may be sure that you will be listened to and can freely express your out-of-the-box ideas.
#2 Flexible Pricing 
You may have noticed that prices aren't provided when researching enterprise plans. That is because each business plan has unique features and capacities. So they can't be charged the same because they are all different. 
To know the price, you often need to contact the sales team, which is the most common way to get an estimated cost. Also, reaching out for such information allows you to ask important questions. So after such a meeting, it would be much easier for you to decide if the solution and system are satisfactory for you. 
Flexible pricing and plan let you pay for what you actually use. 
Ready-made plans may include many features and functionalities you are not interested in. So that's another great benefit of choosing an enterprise solution.
#3 Customized customer support
The individual approach refers to support as well. For example, some help desk systems that offer enterprise solutions provide customized customer support. It means that you will get priority treatment if you need assistance and can quickly contact the sales support team.
When you implement a new tool, support priority is precious. When you or your team cannot deal with something or some features don't work correctly (which sometimes happens), you will get immediate help, and the support team will resolve your problem as quickly as possible. 
Consequently, you will be able to deal with your customers' issues sooner, which favors customer satisfaction.
#4 Unrestricted feature capacities 
Before deciding on an enterprise help desk plan, determine what features you want to expand. For instance, more integrations, agent seats, or automatic messages – you name it. Also, consider how such a change would affect your business and what value it may bring you. 
Thinking about the features before investing in an enterprise solution will help you decide whether you need one. Maybe there's already a solution that offers a package that you need? 
Look around, and compare the plans and their prices. 
However, investing in an enterprise solution lets you upgrade your plan as you will need it. If the software works great for you, but you own a growing company, that's no problem. As time goes by, you'll probably need more features, and most help desk systems offer a seamless upgrade.
#5 Boosted productivity
Having an individual package and customer assistance at your fingertips may help you to boost your productivity. With all the features adjusted to your needs, you can efficiently deal with customer queries. 
A good adjusted plan is beneficial not just for the employees but also for the customers. It can be seen in positive feedback from customers, who may feel satisfied with the service they received.
💡 It is essential to eliminate roadblocks if you want to increase productivity.
For example, when your employees have too many tasks and not enough time to manage them, support your agents and help them to solve the problem. 
Or if your employees are dealing with too many customer inquiries at once, this may decrease their productivity. That's why it's worth keeping an eye on agent statistics or a heatmap that shows the overload.
#6 Improved self-service
Help desk systems offer many advanced features that can sometimes improve self-service. However, to provide effective online self-help, you need to provide resources like FAQ, a help subtab, automatic replies, or autoresponders. 
All of them combined together may improve customer experience as well. It means that your customers can find the necessary information independently and don't need to reach out to the help desk or sales agents. This way, they may feel more powerful and capable of resolving their issues.
#7 Increased customer satisfaction rates
Again, a tailored plan to your needs may streamline work, increase productivity, and boost customer satisfaction. If a customer requests a status update on an order, using a proper tool will help you send the answers as soon as possible and resolve users' issues quickly. 
You can offer great support to your customers using a tool with a robust set of features. Knowing your audience, their needs, and the potential issues they may encounter will help you manage their requests better and offer a better customer experience. And it results in improved satisfaction rates. 
By the way, this is one of the metrics that show if your customers are happy with your service (there are more of them). So make sure you're keeping an eye on them to control how your customer service desk is performing. 
Sounds promising, right? If you need an enterprise solution, we have a recommendation for you. 
You can enjoy all of those benefits with Responso! 
Responso: a help desk for your enterprise business 
If you're looking for help desk software for your business Responso may be a solution you might be keen on. Let's see what it is.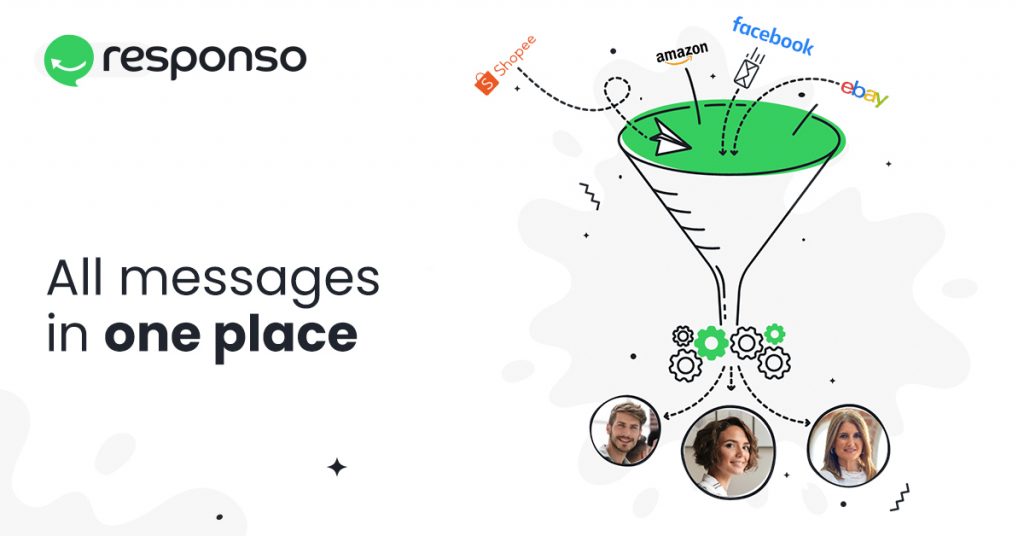 What is Responso?
It is help desk software. Responso offers a Basic plan that works perfectly for small companies and an enterprise solution for bigger businesses. It helps with service management, email communication and getting getting issues resolved quickly. 
So, if you want to improve customer experience, increase productivity, and analyze customer data, it is a choice for you.
How does a Responso enterprise help desk solution work? Top benefits
Let's explore Responso's functionality in more detail.
01 Individual implementation
A help desk can be implemented in many ways, for example, by your customer service team. Regarding Responso, implementing a help desk is very easy, and it takes minutes. 
However, an enterprise solution provides you with a unique set of features, so we offer an individual implementation to make sure the process is smooth and enjoyable for you.
02 Customer support priority (dedicated phone number and priority chat queue)
If you use a new tool or expand its functionality, it is essential to be able to contact sales and ask for help when it's necessary. Using a new platform or features may be confusing at the beginning. When you don't know how to use them, you cannot manage your online store users' tickets. It may result in missing selling opportunities, so your revenue decreases. 
So that's why Responso offers customer support priority for enterprise businesses. You can reach out for assistance, and you get it immediately. 
03 An unlimited number of agents in your support team
The good news is that Responso enables you to have an unlimited number of agents, even in a regular plan. It means that your team can be as big as you need, and all of them can work together. 
If you have a growing business, the number of issues and requests is growing as well. That's why being able to expand your team quickly is a huge convenience.
04 Automatic actions
With Responso, you can create workflows, both complex and straightforward. For example, you can send different messages to users depending on their type of accounts, day of the week, or what tools the Responso users have integrated. 
Automatic actions are effortless to configure. Try different settings depending on your needs and your target users. If you don't want to use them, you can turn them off without affecting other settings.
📰 Learn more: 8 Tips on How to Improve Your Ecommerce Workflow
05 Messages statuses
With this feature, you will see the current discussion status with online shoppers and potential customers. Responso provides statuses like:
open – the conversation in progress

pending – it needs a user's answer

in pending – not yet determined, for example, when you need to consult something with the other department

solved – when the user already got the answer

closed – completed cases when you don't need a user's opinion

spam – unwanted messages
However, you can create your own statuses specific to your needs.
💡 Thanks to Responso integrations there are many support channels (Messenger, email, or marketplaces like eBay, Allegro, or Shopee).
06 Autoresponder 
This function allows you to send automatic messages on Allegro, Amazon, or eBay. Thanks to the autoresponder, users get timely answers to inquiries from various sources (including Allegro Discussion and Allegro News Center). It doesn't matter how many accounts you have or your chosen plan. It is available for both basic and custom plan.
Autoresponder is a great way to assure the buyers that you'll handle their inquiry. 
It aims to inform the user that an agent will respond to their message within 24 hours (or whatever time you want). Doing so communicates a willingness to help and a focus on your customers.
You don't need to design an autoresponder all by yourself. But it's possible if you feel like doing it. However, some templates allow you to set up an autoresponder in minutes. Use the template, and then modify it as you prefer.
With this feature, you can thank customers for the message and assure them to contact back. For example, you can use an autoresponder on the weekends or after office hours. Set the time, and still be in touch with online shoppers even if you're not available.
Those are only the chosen features that Responso makes available to you and your online customers. 
Responso custom plan pricing 
Responso pricing for enterprise businesses is individual. Each company has different needs and goals, so the packages and their capacities will differ. It explains why the price varies for every enterprise customer.
Enterprise help desk solution concluded
A help desk enterprise solution is a piece of software that may be customized for your business and also integrates with your existing system or marketplace. Additionally, it allows you to manage your customer interactions efficiently and lets the users know about your availability for them.
An enterprise help desk can be used for many things, such as tracking customer requests, managing tickets, monitoring user activity, and more. In addition, such a solution ensures that your customers are satisfied.
If you don't know what software to choose, sign up for a Responso free trial to connect with your customers and organize support requests.  
Responso Custom Enterprise Plan FAQ 
What is Responso's enterprise service desk solution?
Responso offers a custom plan for those who need a package tailored to their needs. For example, the enterprise solution offers features like custom function configuration, rights management access, custom response number, individual implementation, and full system configuration. But not only! See the offer if you're interested.
Who can use Responso enterprise plan for service management?
It is a fantastic solution for enterprises or growing companies needing an expanded set of features. However, if your business is not large, and you just want a tailored plan or upgrade the plan you already have, it is an excellent option for you as well.
Is help desk a customer support?
The primary purpose of a Responso help desk is to let your customer know you'll provide the assistance as soon as possible. As a result, customer communications are more organized and assistance can be provided more quickly and efficiently. So, a help desk definitely streamlines customer services and support.
Is Responso a suitable software solution for smaller companies?
Of course. Except for a custom plan, there is a Basic plan available. With this package, you have unlimited email accounts and integrations, and you can send as many messages as you need to. Moreover, this plan's subscribers take advantage of an autoresponder, customization options, statistics, and more. However, the plan has its limitations.